Click on pictures to enlarge

---
May 4th, 2007: Brian is in the Denver area and tunes my Haltech maps. She's running smoother and stronger than ever.
---
January 07: I upgraded the turbo oil return line. It used to smoke terribly and give passengers headaches.
---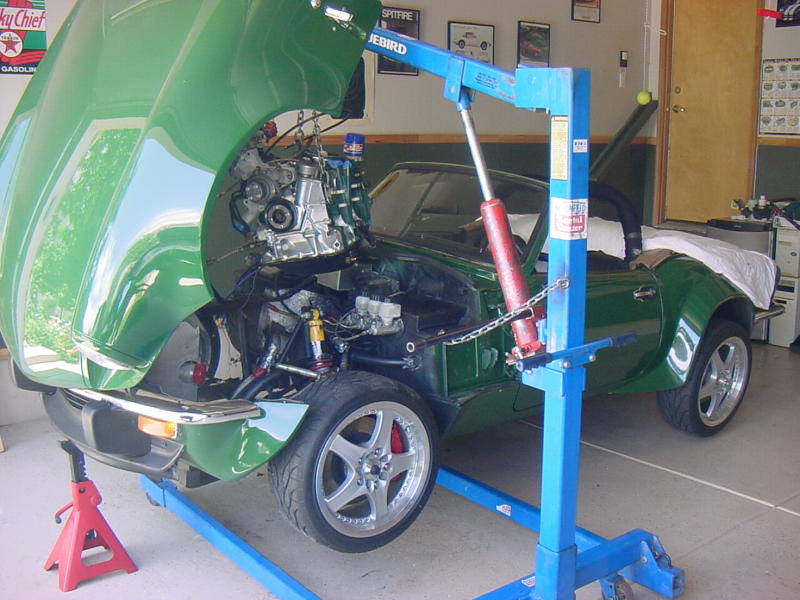 April 10th, 2006: A problem at the dyno takes out some seals, so the engine gets shipped to Brian again for a rebuild.
Updated June 24th, 2006, click on picture.
---
The 2005 English Motoring Conclave
Sept 16th, 2005: About 300 British cars ralley through the Rockies, through St. Mary's Glacier, Blackhawk and Central City. That sweet little Alpine Tiger put a crack in my windscreen leaving this stop. (Cracked windshields are a common malady in Colorado.) We had some gorgeous weather.
Sept 17th, 2005: Roughly 750 British cars and motorcycles attended the event this year at Oak Park, Arvada.
---
Sept 12th, 2005: I finally got the cooling expansion tank fabricated and installed. This really speeds cooling recovery time after climbing a long grade on a hot day.
Sept 16th, 2005: I replaced both the brake master cylinders with 5/8" Tiltons. They were 7/8" front and 3/4" rear, making the pedal very hard. Now she stands on her nose with a lot less effort.
---
The 2005 Denver Grand Prix has brought some world class drivers to town.
Randy "The Rocket" Pobst took her for a spin.
---
6-5-05: Painted the garage floor in Rustoleum epoxy.
---
6-1-05: 25.6 mpg on a trip to Wyoming and back. Light throttle, no boost and 60 mph the whole way.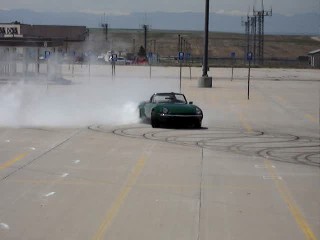 ABOVE IS A LINK TO A 7 MEG FILE.
5-16-05: Donuts are a fun way to finish off a worn out set of tires. I did these with the low boost setting.
Left: Street tires are BF Goodrich KDW-NTs, 205/45ZR16.
Right: Track tires are Hoosier DOT Road Racing Radials 205/45ZR16 in R3S04 compound mounted on custom made aluminum 16"X 8" wheels.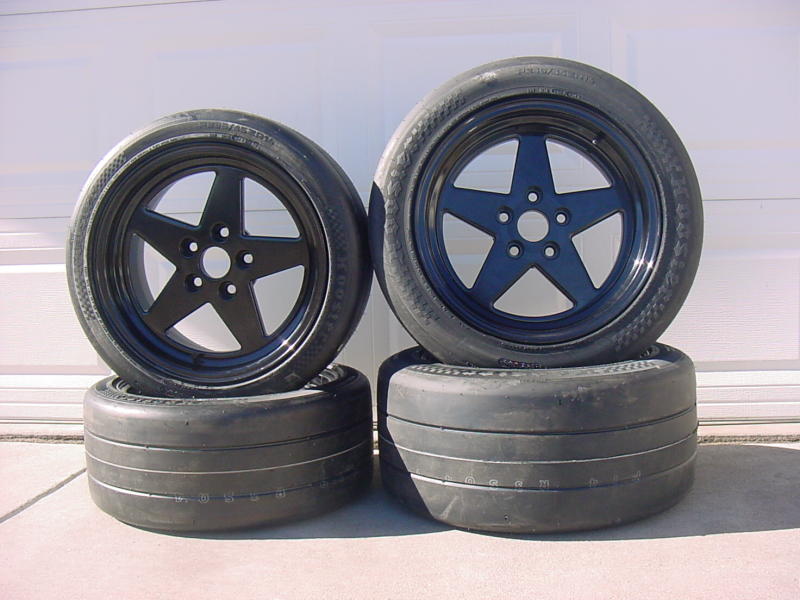 Jim Lyon of TruDesign Wheels made these custom aluminum racing wheels for my slicks. He measured the perfect offsets (fronts/rears), CNC machined the spoke pattern, then TiG'd it into the aluminum 16X 8" rims.
TruDesign Wheel
Wheat Ridge, Colorado 303-422-5090
---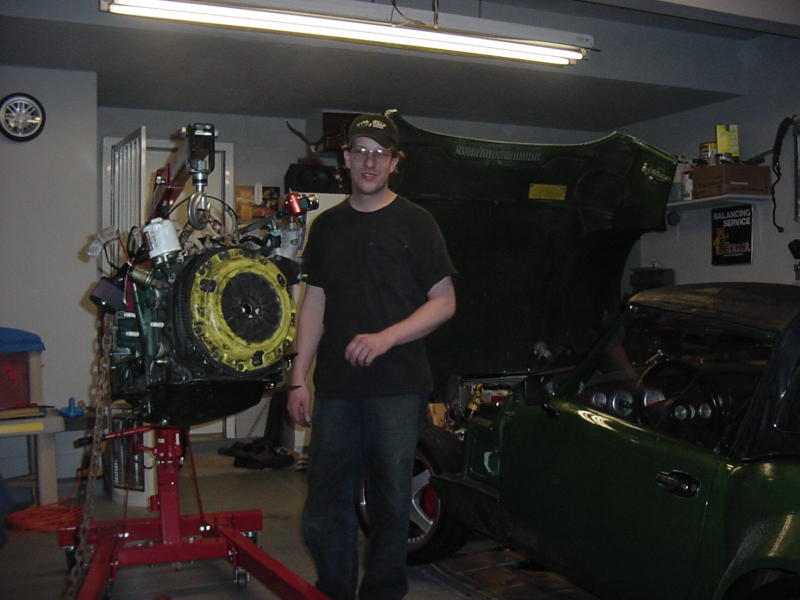 January 22nd, 2005: We got the new ACT pressure plate installed and Jim did some more work to clean up the engine. After pulling an all-nighter, she fired up at 4:am, got steam cleaned, then drove 80 miles north to the annual Witthar's Circle Track Show (where John asked if I'd put her on display). The lighter clutch seems to have plenty of power for this engine, and is much easier to drive. Jim installed two oil pan gaskets, above and below the oil pan splash plate, and finally that annoying oil leak seems to be fixed. He also made some improvements on the cable that connects the oil metering pump to the throttle, and cleaned up a few other problem with the engine. Jim also did some fuel map tuning in the 3000-6000rpm vacuum areas, the highway driving band, and she's running smoother than ever. A 160 mile highway trip (mostly 75mph) showed 18.86 mpg, so the mileage is improving as she breaks in more, at 7500 miles now since the rebuild.
Jan 14th, 2005: The clutch fork pivot ball broke, making clutching very difficult. It's in Jim's home garage, we pulled the engine and we're replacing the pressure plate. Apparently the ACT Extreme pressure plate is too extreme for the stock parts, so we're downgrading to the ACT Heavy Duty pressure plate. Hopefully this will provide enough clamping power, and lighten the clutch considerably.
---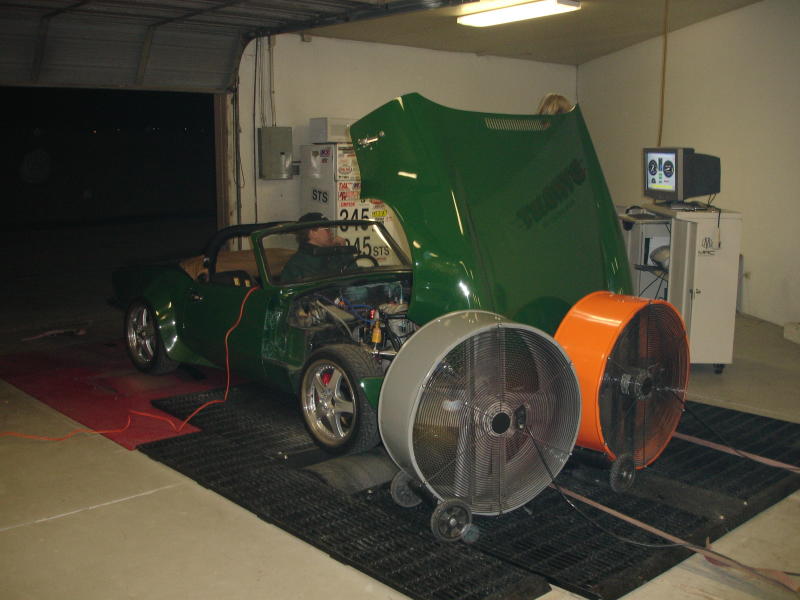 12-21-04: We dyno tuned the engine again. It's been3000 miles and a road trip from Denver to LA and back since the last tune. It's been running rough, rich and stuttering between 5000 and 6000 rpm. No longer. She's up to 442 rwhp and smoother than ever.
Fuel Mapping by:
Jim Berg
---
Jim loves his work...Brian's throttle body modifications
Nov to Dec '04...Jim Berg (The Mazda-Honda Shop) has had her for a couple weeks. He fixed oil leaks, replaced the worn out throttle body, changed tranny fluids, hooked up the oil metering pump throttle cable, did some tuning, tweaking, testing, and had a good time trying out his improvements. Jim Lyon (TruDesign Wheels, 800-621-6436) is making custom track wheels, and endured a wild ride one 30 degree morning with the top down.
Throttle body: the linkage was so worn that the secondary butterfly valves didn't open much. This was replaced with one modified for better air flow by Brian Cain.
Tranny fluids: after changing to Red Line's Shock Proof synthetic, shifting became much smoother.
Oil Metering Pump cable: this smoothes out the throttle action and allows for two stroke oil to be injection from a separate reservoir (no more premixing at the gas pump).
Track wheels: Jim Lyon measured the exact back spacing and is making 8" front and 9 1/2" rear, lightweight aluminum wheels with his CNC machine. I'll put slicks on these to play on the track.
---
In October '04 the front suspension was rebuilt the 4th (and final) time. Lower control arms, knuckles, axles and brakes were all upgraded. The brakes are finally balanced just right, and the car was corner weighted. Air flow under the car was improved with a front air dam and rear air diffusers.
Chassis by:
Witthar Racing
15405 Zuni St., Broomfield, Co 80020 303-452-5239
---
Saturday (9-18-04), a four hour rally through the Rocky Mountains culminated near the base of Mt Evans, 11,000 ft above sea level (nice to have a turbo there).
Sunday was the Colorado Conclave, a meeting of all British cars.
---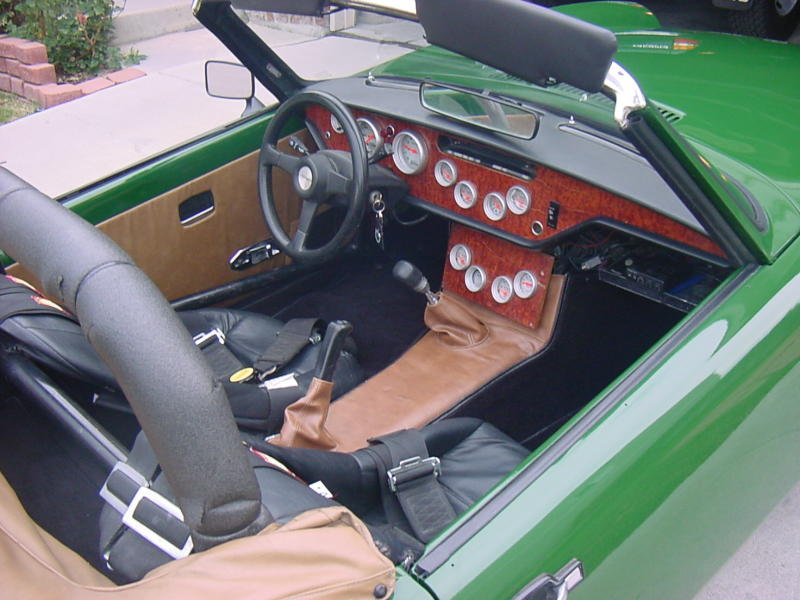 Carpeting, console cover, electric seat heaters and a new windscreen are the newest additions. Right shows dashboard.
Interior by:
Sid's Interior
2500 W. 104th Ave., Northglenn, Co. 80234 303-404-6500
---
Body and paint by:
Five Star Collision Center
10750 Irma Dr., Northglenn, Co 80233 303-322-7858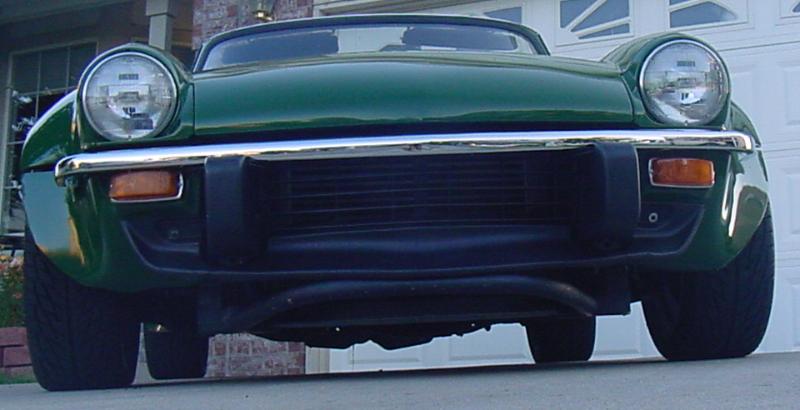 After body, paint and a 2100 mile road trip.
---
---
Dyno results, left at 14psi, right at 6psi.
Emission results well below Colorado State requirements. Thanks to Jim Berg's tuning and Brian Cain's porting.
Center is the fuel map with data logs information overlayed.
Fuel Mapping by:
Jim Berg
---
On November 2nd 2003 she rolled out of the garage on her own power. She rides very light, low and stiff. There were many gremlins to work out, and a gentle engine break in. Although I'm keeping her below 4000rpm for now, it's hard not to squeak the tires. The rotary engine is smooth and strong.
---
Engine reassembly after being ported, pinned and rebuilt by Brian Cain.
Engine ported and rebuilt by:
Brian Cain